Use these local guides and resources to plan your perfect trip to Portland.
Whether it's your first time visiting Portland or you're looking for something new to discover, there's plenty of ways to explore the City of Roses. Scroll down for resources to help you plan your trip to Portland, then visit our events calendar to find even more things to do while you're here.
Getting to Portland
Whether you're flying into our beloved airport or arriving by land, traveling to Portland is a breeze.

PDX boasts an easy light rail connection to downtown, free Wi-Fi, local food and drink and tax-free shopping with no markups — and 426 flights daily.

Union Station, with its elegant architecture and iconic "Go By Train" neon sign connects passengers with the city by bus, car and of course by train.

While Portland prides itself on being a city that's easy to get around without a car, these tips will help you tour the city in four-wheeled fashion.
Where to Stay in Portland
Use these guides to find the perfect home base for your trip to the Rose City.
Public Transportation
Get around using TriMet, Portland's efficient public transportation system.

The TriMet bus system, which covers the city and its suburbs, offers low fares, friendly drivers and full wheelchair accessibility.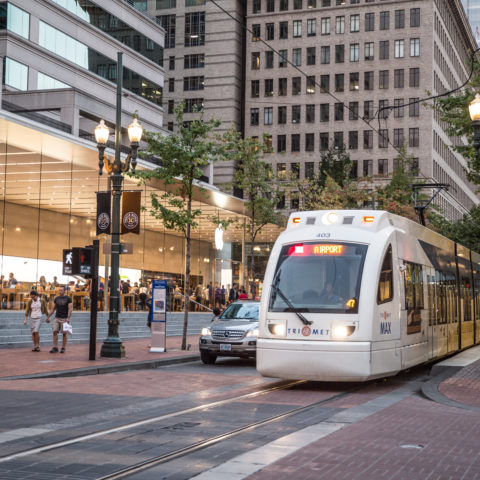 Portland's efficient light rail system connects the metro area and downtown core. Learn how to ride and where to go on MAX.

In 2001, Portland built the nation's first modern-day streetcar: the sleek and modern Portland Streetcar.
Portland on Two Wheels
Do as locals do and hop on a bike or e-scooter to explore the city car-free.

With bike lanes and paths throughout the city, Portland has great places to ride for cyclists of all abilities.

In April 2019, Portland launched a year-long citywide trial in of shareable electric scooters ("e-scooters"). Before boarding, check out our dos and don'ts for riding e-scooters in Portland.

Introduced in 2016, Portland's bike-share program brings 1,000 smart bicycles to the central city.
Discover the Region
Explore the beautiful regions surrounding Portland.

Starting just 30 miles east of Portland, the Columbia River Gorge National Scenic Area offers amazing vistas, trails and more than 90 waterfalls.

Mount Hood offers scenic recreation ranging from camping, hiking and fishing to nearly year-round skiing.

From the fishing city of Astoria to the tide pools of Yachats, the Oregon Coast is a rugged, unspoiled treasure that begins 90 minutes from Portland.
Month by Month
Every month in Portland offers its own unique set of special events and traditions.