Southwest Portland
Best known for lively downtown Portland, this quadrant is also home to Washington Park's numerous attractions, Goose Hollow's blend of historic and modern, the small-town charm of Multnomah Village and more.
Most visits to Portland include some well-spent time downtown Portland — this bustling, walkable neighborhood boasts a high concentration of hotels, shops, restaurants, bars, venues and attractions, including the Portland Art Museum. Beyond your explorations downtown, discover how much more Southwest Portland has to offer: Goose Hollow is known for Old Portland architecture, tree-lined streets and great spots to grab a bite or a beverage before catching a soccer match at Providence Park. Multnomah Village provides small-town vibes and charming local businesses. Washington Park comprises a wealth of lovely green spaces and attractions, including the Oregon Zoo, the International Rose Test Garden and the Portland Japanese Garden.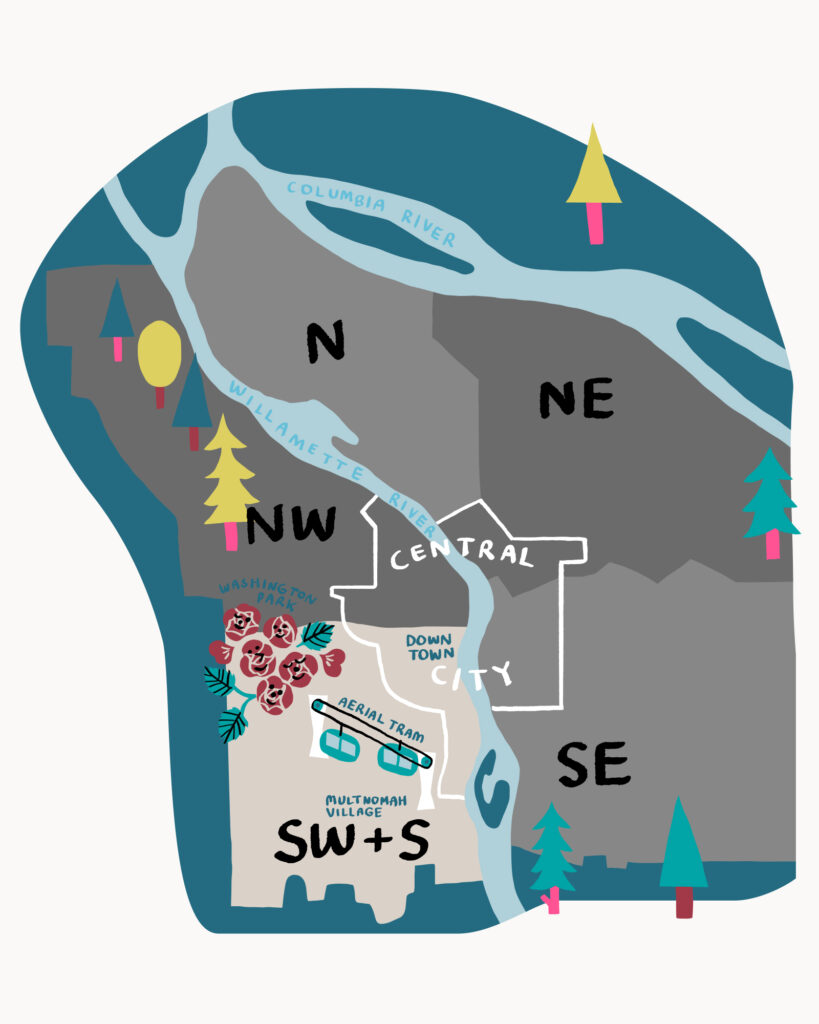 Bordered by West Burnside to the north and the city of Lake Oswego to the south, Southwest Portland's varied environments range from urban bustle to quiet residential streets to interwoven public parks. Laterally, this quadrant extends from Southwest 65th Avenue in the west to the edge of up-and-coming South Portland to the east.
About Southwest Portland
History
What's in a name? The histories of Southwest Portland's neighborhoods are hinted at by what we call them today: Locals used to let their geese roam in the lowlands around Tanner Creek, sometimes resulting in heated fights over whose geese were whose — today, this area is known as Goose Hollow. Multnomah Village was, indeed, once a village all its own, named for a station on the Oregon Electric Railway. It was annexed by Portland in 1950. "Downtown" Portland wasn't always so — Old Town Chinatown was the city's original urban core. In the early 20th century, a variety of factors — including the proliferation of railroads, an influx of new businesses, and the Lewis and Clark Centennial Exposition of 1905 — changed that, and today's downtown rose to prominence.
Short-Term Rentals in Southwest Portland
Use the links below to search for short-term vacation rental listings in and near Southwest Portland.
There were still challenges ahead — in the mid-1900s, as Portland grew and automobile ownership boomed, space downtown was at a premium. This led to the demolition of historic buildings and the over-proliferation of highway interchanges, parking lots and garages. Fortunately, a series of savvy choices rejuvenated the neighborhood in the years that followed: A cap was placed on downtown parking spaces. The Harbor Drive highway was closed in 1974 and replaced by Tom McCall Waterfront Park. A large parking structure was razed and replaced with "Portland's living room," Pioneer Courthouse Square. And the MAX Light Rail began operation in 1986.
In the late 1800s, the hills of Goose Hollow bore little resemblance to the prosperous neighborhood found there today — the land was marshy, uneven and undeveloped. Chinese immigrants saw an opportunity: They planted hillside gardens and cultivated the land, selling their bounties of fruit and vegetables throughout the city. Their resourceful enterprise flourished, and by the early 1900s the gardens encompassed more than 20 acres (8.1 ha). As the city grew, wealthy merchants and city leaders turned their attention to the hills. Racist policies disallowed Portlanders of Chinese descent from owning property, making their claim to the land they'd worked to cultivate tenuous. By 1910, they'd mostly been pushed off the land — their gardens were destroyed, and development was underway.
Southwest Neighborhoods
This quadrant boasts everything from a walkable downtown to a village with small-town charm.

Portland's compact, walkable downtown offers easy access to great food, green spaces, cultural offerings and tax-free shopping. Browse the city's most diverse mix of retail brands, see a show and grab a bite at a food cart or fine restaurant.

With great eateries, Portland-style shopping and an abundance of things to do in Goose Hollow, sports fans, theater lovers and vegan foodies flock to this Southwest Portland district.

Known as "the village in the heart of Portland," historic Multnomah Village delivers small town charm mere minutes from the city center.
Downtown Portland Today
Present-day downtown Portland is the colorful nucleus of the City of Roses. Its abundance of hotels and central location make it a great place to stay. Its narrow blocks (just 200 feet [61 m] on a side), compact size and plentiful public transportation options make exploring a breeze. And what a lot of exploring there is to do! Enjoy enlightening attractions and museums, including the Oregon Historical Society and the renowned Portland Art Museum. Take a stroll through Portland State University's vibrant urban campus (if it's a Saturday, be sure to check out the Portland Farmers Market). Shopping options run the gamut from charming local spots like Canoe and Woonwinkel to the high-end shopping experiences on offer at Pioneer Place and Union Way.
Downtown also boasts a high concentration of excellent restaurants and bars. You'll find a variety of great Asian eateries — try Toki for satisfying Korean fare, Kizuki for tempting ramen and izakaya eats, or Tasty Corner for multi-regional Chinese favorites. If you're celebrating, treat yourself to a tasting menu at Mucca Osteria or Tercet. Not that you have to spend up — downtown also offers plenty of affordable options, including popular food carts: the pods at Second, Third and Fifth avenues will get you started (and they're just blocks apart). Wash it all down with whatever bar matches your mood; consider Kelly's Olympian for laid-back vibes and live music, or Abigail Hall for a fine cocktail.
Downtown Shopping
Shopping options in the central city range from mom-and-pop boutiques to chic shopping malls.
More Southwest Portland Restaurants
Stay hungry — Southwest Portland has more top-notch restaurants to explore.
Other Neighborhoods
Head west to find Goose Hollow — far removed from its history of flood-prone plank roads and literal geese, today the neighborhood is marked by a pleasing blend of historic architecture and modern flourishes. The south and west sides comprise steep, shady residential streets (a Pacific Northwest classic). The heart of the neighborhood offers eateries and watering holes — try Pizza Kat for a slice, Gilda's for a hearty bowl of pasta, Goose Hollow Inn for a Reuben and a pint, or Fehrenbacher Hof for a cup of joe in cozy environs (it's built right into a 1932 craftsman-style house). On the neighborhood's north side sits Providence Park, home to the Timbers and Thorns major league soccer teams. Even if you don't make it for a match, you can experience the sporting vibe throughout Goose Hollow: Grab a jersey at PTFC Authentics or Portland Gear, then mingle with other soccer fans at The Cheerful Bullpen, a nearby no-frills sports bar.
Continue your adventures in Southwest Portland with a visit to Multnomah Village. Located just 5 miles (8 km) south of downtown, this pleasant neighborhood is known as "the village in the heart of Portland" — its quaint streets and abundant local businesses demand to be explored. Dining options range from Old Portland classics like Fat City Cafe and The Original Pancake House to newer spots like Yalla and Tastebud. The Multnomah French Quarter is many things in one: a food cart pod, a gathering place, a shopping center and more. Finish your Multnomah Village visit with a little shopping — try Switch for shoes and clothes, Thinker Toys for kids' fun or Annie Bloom's Books for your next great read.
Nearby Hillsdale is a large neighborhood offering walkable suburban vibes just a few miles outside the central city — explore the local shops and restaurants (plus two top-notch breweries just a few blocks apart). Southwest Portland's other neighborhoods include the Southwest Hills, Maplewood, Far Southwest and many more.
More Southwest Portland Shopping
Explore shops of all sorts — all of them sales-tax free — downtown and beyond.
Things to Do in Southwest Portland
Washington Park
It feels almost modest to call Washington Park a "park" — it's a super park, a conglomeration of parks, a park-within-a-park-within-a-park. The grounds comprise 410 verdant acres (165.9 ha) just 2 miles (3.2 km) west of downtown and easily accessible via public transportation. Its popular attractions include the Portland International Rose Test Garden — a free-to-all space featuring more than 10,000 roses — and the Portland Japanese Garden, which is regarded as one of the most authentic Japanese gardens outside of Japan. Washington Park boasts a multitude of attractions for families: The Oregon Zoo is home to over 2,500 animals from more than 200 species; it also offers summer concerts, events and a historic railway. Visitors to the World Forestry Center Discovery Museum will enjoy educational (and entertaining) forest-focused exhibits. Kids need to blow off some steam? The Rose Garden Children's Playground is Portland's largest play structure.
And there's still so much more. Several free memorials throughout the park offer sites for quiet reflection, including the Oregon Holocaust Memorial and the Vietnam Veterans of Oregon Memorial. Hoyt Arboretum, one of Washington Park's largest attractions at 190 acres (76.9 ha), provides an opportunity for exercise and nature appreciation along 12 miles (19.3 km) of trails.
Washington Park Attractions
Discover the abundant attractions on offer throughout Washington Park.
Tryon Creek State Natural Area
Farther out in Southwest Portland you'll find another expansive park to explore. Tryon Creek State Natural Area — a lush canyon located 7 miles (11.3 km) south of downtown, just north of Lake Oswego — is the only Oregon state park located within a major city. Its 658 acres (226.3 ha) have a lot to offer, including a nature center with interpretive exhibits, a wetland boardwalk, towering second-growth evergreens and myriad wildflowers, including the park's iconic trilliums. As you explore the miles of hiking trails, horse trails and bridges (there's also a 0.3-mile [0.5-km] universal access path and a 3-mile [4.8-km] bicycle path), you're likely to have a wildlife encounter or two. Animals who call Tyron Creek home include woodpeckers, owls, blacktail deer, red foxes and beavers.
Downtown Museums
Since opening its doors in 1892, the Portland Art Museum has been a cultural hub showcasing a vast, eclectic art collection; it's the largest art museum in Oregon and the oldest in the Pacific Northwest. In its two historic buildings, located on downtown Portland's popular South Park Blocks, you'll find their permanent collection — including robust collections of Native American and Northwest art — exhibitions, a theater, a store and a café.
You don't have to go far to spend more time immersed in the visual arts — the Jordan Schnitzer Museum of Art (which offers free admission to all guests) is located less than half a mile to the south, on the Portland State University campus. Their collection features Northwest, national and international artists alongside works by Portland State University faculty and students.
To learn more about Oregon's rich history, pay a visit to the Oregon Historical Society. Their museum — located on the South Park Blocks, just across the street from the Portland Art Museum — features a wide variety of permanent and rotating exhibitions. Take your historical explorations to the water with a visit to the Oregon Maritime Museum, housed in a historic sternwheeler moored at Tom McCall Waterfront Park. Visitors will enjoy touring the vessel, exploring exhibits and browsing maritime artifacts.
More to Explore
Showtime
Southwest Portland has abundant venues in a variety of styles. The largest and best-known are those under the umbrella of Portland'5 Centers for the Arts, a nationally recognized performing arts center encompassing five theaters across three buildings. Keller Auditorium is the city's oldest, largest publicly owned theater building, where you can attend plays, opera, ballet and more. Known for its iconic "Portland" sign, the Arlene Schnitzer Concert Hall is a historic theater that hosts large-scale shows and lectures (it's also home base for the Oregon Symphony). Antoinette Hatfield Hall offers three venues in one: the Newmark, Winningstad and Brunish theatres. Together they provide configurations that range from a grand, double-balconied hall to an intimate black-box setting.
If a less formal, funkier venue is more your style, Southwest Portland has you covered: McMenamins Crystal Ballroom is a long-running theater famed for its vaulted ceiling, striking chandeliers and storied "floating" dance floor; it hosts touring acts in an array of genres. Dante's helps keep Portland weird with its cabaret-cum-nightclub space and boozy late-night vibes — shows run the gamut from metal to burlesque to DJ sets. For a mellower scene, check out the Jack London Revue, a speakeasy-style club specializing in jazz (and jazz-adjacent) acts.
Events in Southwest Portland
These festive events provide a chance to mingle with locals and visitors alike.

Every summer, the Portland Pride Festival & Parade makes a name for itself — and LGBTQ+ community members — all over town.

Shop for handmade crafts, snack on traditional recipes and enjoy entertainment straight from Guadalajara at this popular Cinco de Mayo festival.

Every Fourth of July weekend, the Waterfront Blues Festival takes over downtown Portland's Waterfront Park.
More Public Parks
This quadrant is known for its urban core, but don't sleep on its parks and green spaces. Some highlight their metropolitan settings: Keller Fountain Park showcases a series of interlocking waterfalls, all hard angles, platforms and terraces; Director Park is an inviting European-style plaza where locals and visitors gather. Other parks — like the highly varied 89 acres (36 ha) of Gabriel Park or the expansive woods of Marquam Nature Park — might make you forget, just for a moment, that you're in the midst of one of the great American cities.
Southwest Portland Activities
Find a great way to spend a day with friends or family in Southwest Portland.

Portland's flagship farmers' market perfectly embodies the city's foodie sensibilities and independent spirit.

Even if you can't score tickets to a game itself, you can cheer on the home team at these bars near Providence Park.

The city's sunniest season makes it easy to fill your calendar with summer fun.
Portland's Quadrants
Explore the six "quadrants" (yes — there are six of them!) that make up the City of Roses.