Northwest Portland
Northwest Portland is a study in contrasts, from swank shopping and dining in the central city to the natural beauty of Forest Park — and everything in between.
For those drawn to Portland for the region's natural beauty, Northwest Portland has a lot to offer. It contains the northern stretch of the West Hills and most of Forest Park, one of America's largest urban forests; other outdoor attractions include Lan Su Chinese Garden and the views from Pittock Mansion. Those seeking a more metropolitan experience will enjoy a visit to this quadrant, too. The Pearl District is home to stylish shops and art galleries (and one of the most famous bookstores in the world); in Northwest/Nob Hill, you'll find striking architecture and more top-notch shopping. Old Town Chinatown offers Portland history, iconic landmarks and — if the timing's right — the Portland Saturday Market. In every one of Northwest Portland's neighborhoods, excellent restaurants and bars abound.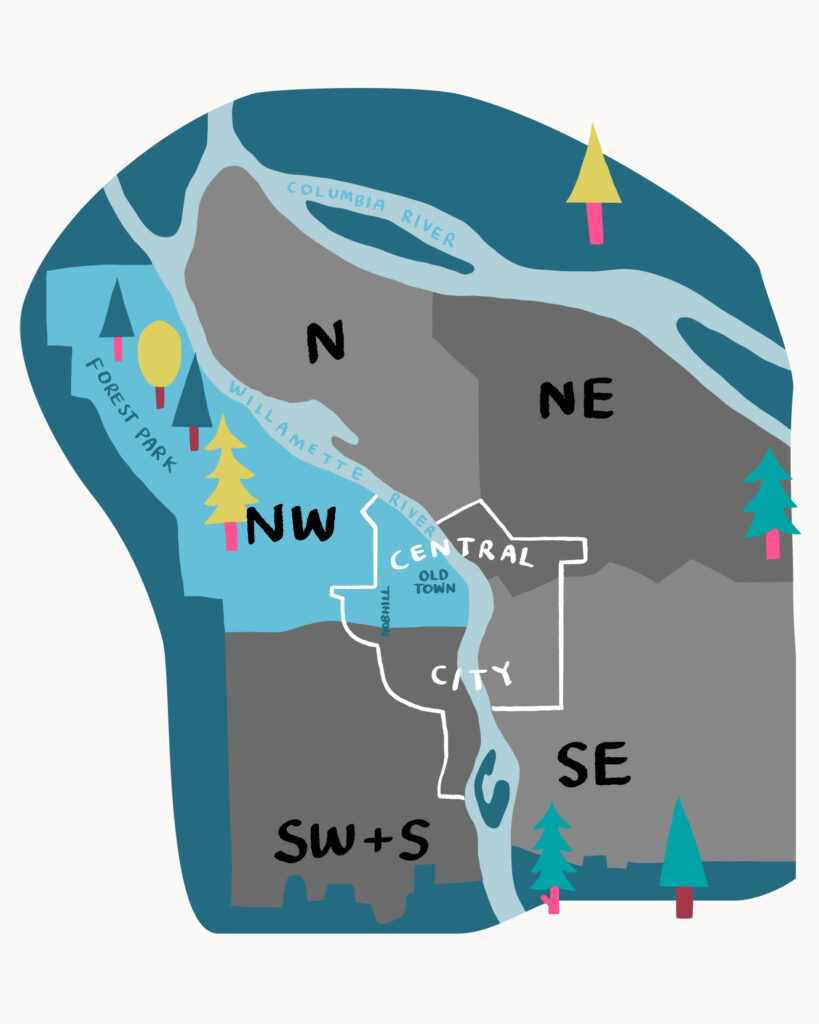 About Northwest Portland
History
The development of Northwest Portland began when a sea captain named John Heard Couch claimed 640 acres (259 ha) in 1850 as part of the Donation Land Claim Act. Over the following two decades, Couch (rhymes with "pooch") became a prominent community leader and businessman — he built a wharf and warehouse and platted the area, simply assigning letters to the east-west streets. Years later, the letters were replaced with the names of prominent Portlanders, meaning "A Street" became "Ankeny Street" for Captain Alexander Ankeny, B took "Burnside" for merchant David Burnside, C was named for Couch himself, and so on. Today, the Alphabet District is a charming area known for its tree-lined streets, historic homes and local businesses.
Where to Stay in Northwest Portland
Find a perfect home base for your adventures in the central city, the West Hills and beyond.

A stay in Northwest Portland promises a taste of everything the city has to offer.

Find accommodations in Northwest Portland, or stay elsewhere in the city and come to the quadrant to explore.

Mix things up with these one-of-a-kind accommodations, several of which can be found in Northwest Portland.
Railroads played a vital role in Portland's growth in the late 19th and early 20th centuries, and many of the workers who kept the trains running were Black. But Portland was extremely racist, and there were no hotels that allowed Black guests — until William Duncan Allen opened the Golden West Hotel in 1906. For 25 years, the Golden West served as a hub and gathering place for a growing Black middle class in Northwest Portland; it housed a restaurant, a barber shop, an athletic club and other Black-owned businesses. The hotel closed during the Great Depression; redlining and other racist policies forced most Black people out of Northwest Portland. But the Golden West building still stands today, near the eastern edge of the Pearl District — it was placed on the National Register of Historic Places in 2022.
For most of the 1900s, what's now known as "The Pearl" was an industrial area and a hub for transportation and shipping, full of warehouses, manufacturing sites and railyards. Nearby Old Town Chinatown was Portland's original downtown, populated by the Couch family and other settlers. When the city grew larger and wealthy Portlanders moved west, the district became home to many Chinese American families and businesses. It remained a hub for the community for decades, and for a time was the second-largest Chinatown in the country. These same streets were also the site of Portland's historic Japantown — by 1900, several thousand Japanese immigrants had come to Oregon, and by 1940, they had established over 100 businesses in present-day Old Town Chinatown. In 1942, Japantown was destroyed when virtually all Japanese Americans were forcibly incarcerated in internment camps.
Northwest Neighborhoods
Find sophisticated shopping, dining, an urban forest, breathtaking views and more.
Northwest Portland Now
Today, Old Town Chinatown is a lively part of the central city. The ethnically Chinese population has mostly dispersed into other parts of Portland, though vestiges of the area's rich history can still be found. Visitors can learn about that history at the Portland Chinatown Museum. (The Japanese American Museum of Oregon is well worth a visit too.) Enjoy Chinese fare at Chen's Good Taste or Golden Horse Seafood, then wander the tranquil ponds and pavilions of Lan Su Chinese Garden. Old Town Chinatown also offers iconic Portland landmarks like the Chinatown Gateway, the White Stag sign, Union Station and the so-called Shanghai Tunnels (accessing the tunnels can be tricky; Old Town Pizza & Brewing is one option for a tour). Abundant venues for streetwear shopping are scattered throughout the neighborhood, like INDEX, a haven for sneakerheads, and Laundry, a vintage sportswear shop. Deadstock Coffee is a "snob-free" coffee shop that celebrates sneaker culture.
Shopping in Northwest Portland
Explore an abundance of great shops in the heart of this unique, walkable quadrant.
Just west lies the Pearl District. You can still feel the neighborhood's industrial roots when you walk the streets, though the area has changed considerably in recent decades; warehouses have transformed into lofts and condos, and local businesses have flourished. Any shopping trip to Portland demands a stop in the Pearl. Try Garnish for women's clothing and accessories, Halo Shoes for fashionable footwear, and KEEN for rugged boots, sandals and accessories. Don't miss Powell's City of Books, the largest independent new and used bookstore in the nation. The Pearl's abundance of galleries makes it a hub for the visual arts — it's the site of First Thursday, a district-wide celebration of the arts (read more in the "Enjoy the Arts" section below). Dining options here run wide and deep, from Peruvian fine dining at Andina to Thai street food at Khao San to the tempting baked goods and sandwiches on offer at Nuvrei.
More Northwest Portland Restaurants
Eateries in Northwest Portland range from no-frills street food spots to chic, upscale cafés.
Nearby Northwest/Nob Hill is a charming, walkable neighborhood known for fine dining, lovely views and striking architecture. Many businesses are built into converted historic homes, lending the district a unique feel. Like its neighbor the Pearl, it's a great place to shop — wander up Northwest 23rd Avenue and back down Northwest 21st Avenue (or vice versa) for the highest concentration of local shops, including New Renaissance Bookshop, Betsy & Iya, Sloan Boutique and Tender Loving Empire. If you've worked up an appetite, you're in luck — Northwest/Nob Hill is home to innumerable excellent eateries. St. Jack serves hearty French cuisine in a cozy café, or enjoy cocktails and wine in the adjoining bar. Try Fish Sauce for satisfying Vietnamese fare, Please Louise for pizza and small plates, or Ken's Artisan Bakery for decadent desserts and pastries.
Tucked between the Pearl and Northwest/Nob Hill, Slabtown is a trendy pocket neighborhood that's full of chic architecture, tasty food and drink, and fun things to do. Explore the oddities on display at the Freakybuttrue Peculiarium and Museum (helping keep Portland weird indeed), or catch a show at CoHo Theatre. If you're hungry, consider a classic breakfast at the Stepping Stone Cafe or savor tender meats and fresh, local veggies at G-Love. Wash it all down with a local beer — Slabtown has two great breweries located just blocks apart: Breakside Brewery and Lucky Labrador Beer Hall.
Public Transit in Northwest Portland
MAX Light Rail offers stops in Old Town Chinatown; explore Northwest more via Portland Streetcar.

The City of Roses built the nation's first modern-day streetcar in 2001: the sleek and modern Portland Streetcar.

Portland's efficient light rail system connects the metro area and downtown core. Learn how to ride and where to go on MAX.

The TriMet bus system, which covers the city and its suburbs, offers low fares, friendly drivers and full wheelchair accessibility.
Things to Do in Northwest Portland
Explore the Outdoors
At more than 8 miles (12.9 km) in length and more than 5,000 acres (2,023.4 ha) in area, Forest Park is a massive urban-adjacent woodland — many access points are located in Northwest Portland. At the west end of Northwest Thurman Street, you'll find the eastern trailhead for Leif Erikson Drive; this wide, popular path offers access to several trails (including the 30-mile [48.3-km] Wildwood Trail), so you can choose a route that fits your schedule and skill level. Another option is to head to the western terminus of Northwest Upshur Street, just past Northwest 29th Avenue, and take the scenic 5-mile (8-km) round-trip journey from Lower Macleay Park to Pittock Mansion.
Named for Henry and Georgiana Pittock — pioneers, publishers and early Portlanders of influence — Pittock Mansion provides a glimpse of life in the early 20th century. Enjoy the impressive architecture, antiques and artwork as you explore this publicly owned historic home (timed tickets can be purchased online). The beautiful, manicured grounds offer spectacular views — it's a satisfying payoff at the end of a long climb through Forest Park (it's also accessible by car, if you prefer).
The result of a collaboration with Suzhou, Portland's sister city, Lan Su Chinese Garden is one of the most authentic Chinese gardens outside of China. Explore the flora, walkways, koi ponds, bridges and pavilions; they also offer tours of the grounds and a charming teahouse. A few blocks west you'll find the Pearl District's North Park Blocks, one of the city's oldest public parks. Nearby Tanner Springs Park is a unique blend of modern and natural, with striking, angular walkways traversing pre-industrial wetlands.
Northwest Portland Attractions
Find a fun way to spend your day during a visit to Northwest Portland.
Enjoy the Arts
Centered in the Pearl District, First Thursday is a monthly art walk and street gallery that's held on (you guessed it) the first Thursday of the month, April through October. Local art galleries — like Elizabeth Leach Gallery, Blackfish Gallery and Blue Sky — hold events and extended hours. Many serve food and drinks, and some host artists discussing their work. A section of Northwest 13th Avenue closes to traffic and fills up with artists, art lovers, musicians and vendors. Note that parking can be difficult, so public transportation is a good option.
You can experience the arts in other parts of the quadrant, too — check out PDX Contemporary Art in Slabtown or the Russo Lee Gallery in Northwest Portland/Nob Hill. Just two blocks south of Russo Lee Gallery you'll find Cinema 21, a well-loved, locally owned theater. It began life as a silent movie house in 1926; today you can catch independent flicks, art films and classics on three screens.
More to Explore
Literature and Libations
There's nothing quite as satisfying as a good book; fortunately, Northwest Portland is home to one of the finest bookstores on earth: Powell's City of Books. The largest independent bookstore in the world, Powell's occupies an entire city block. Use detailed maps of the 10 color-coded rooms to explore their 68,000 square feet (6,317.4 sq m), four floors and 3,500 sections.
Seeking a different route to satisfaction? This quadrant boasts a laundry list of great spots for a drink, whatever your beverage of choice. You'll find several of Portland's renowned distilleries (including Freeland Spirits, Bull Run Distillery and Aviation American Gin) and a high concentration of local breweries (like Great Notion Brewing, Kells Brew Pub and Von Ebert Brewing). If you like to play while you imbibe, Ground Kontrol's mixed drinks and draft brews complement classic arcade games and pinball machines. Try Teardrop Lounge or Olive Or Twist for tempting craft cocktails in elegant settings.
Events in Northwest Portland
Check the calendar — one of this quadrant's popular events is sure to be starting soon.

Portland Queer Film Festival returns every fall with an annual showcase of narrative and documentary films from around the world.

This annual theater festival invites the public into the creation process.

Every September, spectators gather to see the world's largest roost of Vaux's swifts swarm and spiral into the chimney of a Northwest Portland school.
Portland's Quadrants
Explore the six "quadrants" (yes — there are six of them!) that make up the City of Roses.