Southeast Portland
Southeast Portland encompasses a multitude of environments and atmospheres, from the bustling, industrial vibe of the Central Eastside, to the lively food-and-drink districts of Division/Clinton and Foster-Powell, to the natural beauty of Crystal Springs Rhododendron Garden and Mt. Tabor Park.
If you're searching for Portland's best-known attributes — hip, artsy, quirky, foody — you may find yourself in Southeast Portland. It's home to some of the city's liveliest neighborhoods and popular areas for eating and imbibing, like the Hawthorne District, East Burnside Street and the Jade District. But there's more to this quadrant than craft cocktails, food carts and coffee shops. Families will enjoy exploring the Oregon Museum of Science and Industry (OMSI) and seeking thrills at Oaks Amusement Park. Farther out, you'll find the refuge of peaceful parks and charming, walkable neighborhoods.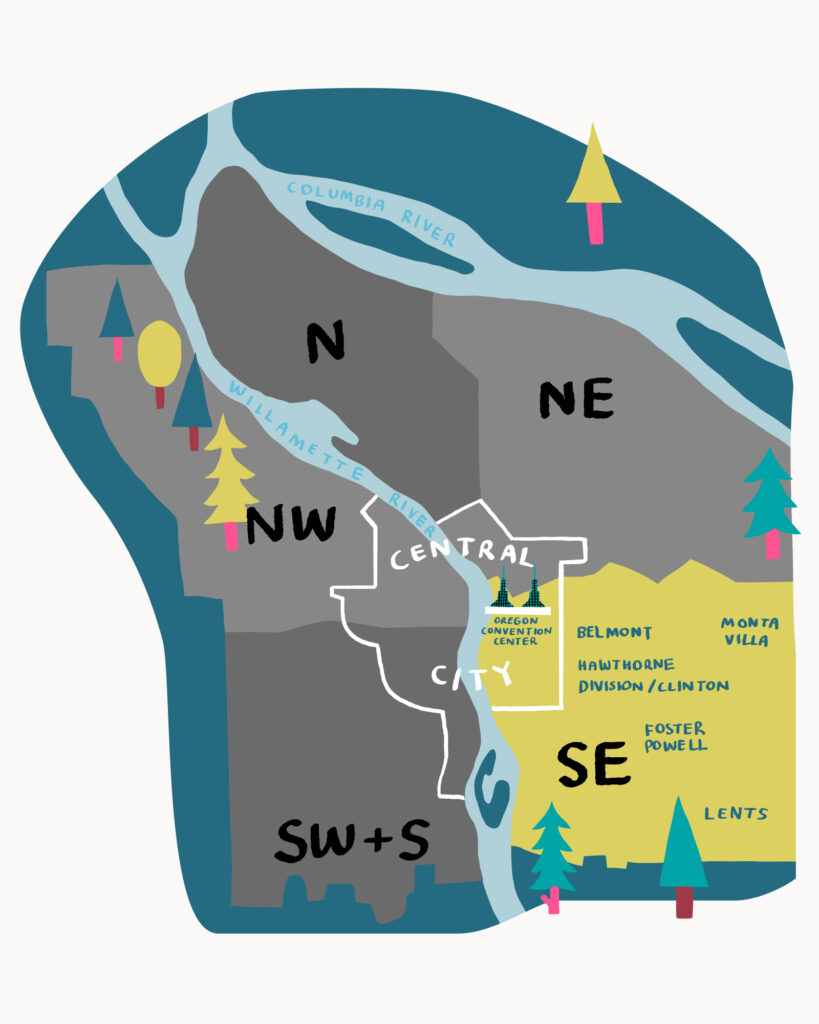 About Southeast Portland
Southeast Portland is home to many distinctive areas and atmospheres: There's the Foster-Powell neighborhood, with its diagonal main drag and wide, pedestrian-friendly sidewalks. There's Ladd's Addition, a historic district known for striking Old Portland homes and an unusual geometric street pattern. There's Reed College, one of the most prestigious liberal arts colleges in the country, where you'll find elegant Tudor-Gothic architecture and a tranquil 28-acre (11.3-ha) canyon. If nothing else, it's safe to say this quadrant is full of interesting places to take a stroll.
Know Before You Go
Portland Streetcar provides service to inner Southeast Portland via the A and B Loops. MAX Light Rail service is primarily via the Orange and Green Lines (with the Blue Line providing service to the quadrant's northeast corner). Other parts of outer Southeast Portland can be accessed via bus.
History
Parts of Southeast Portland's history are in keeping with racist historical trends that are true of Portland more broadly — and of America as a whole. Long before the arrival of English-speaking settlers, it was a site for trading, hunting and fishing for peoples of the Tualatin Kalapuya, Molalla, Clackamas and many other tribes. They were forcibly removed in the mid-1800s, and the land was given to white settlers. A portion of the present-day Montavilla neighborhood was once farmland owned and worked by the Shiogis, a family of Japanese immigrants. During World War II, the Shiogis were forcibly incarcerated in a camp in Idaho — when they were eventually released and returned to Portland, their land and grocery store had been stolen. Like tens of thousands of other Japanese Americans, they never received compensation.
Where to Stay in Southeast Portland
Whatever style of lodging you prefer, find a perfect place to stay in this lively quadrant.

Find accommodations in Southeast Portland, or stay elsewhere in the city and come to the quadrant to explore.

Those looking to learn where to stay in Portland have plenty of options, from glamorous, high-rise hotels to cozy homes embedded within Portland's many neighborhoods. Lodging options throughout the city are as plentiful as they are unique.

From cozy garden rooms to historic wine-cellar suites (including options in Southeast Portland), one of these bed and breakfast spots is sure suit your travel style.
Elsewhere, the large, varied nature of Southeast Portland translates to a series of varied histories for its many different parts: Hawthorne Boulevard was previously dubbed "Asylum Avenue," after the psychiatric hospital — the Oregon Hospital for the Insane — that was located there for more than 20 years. According to legend, the Lents neighborhood, much like Portland itself, was named based on the results of a coin toss. The Central Eastside was once its own city, called East Portland; founded in 1846 on low, marshy land, it was slowly developed into an industrial area with canneries, mills and meatpackers, before merging with Portland and Albina in 1891.
More recent history has been characterized by growth. As recently as the 1980s and '90s, neighborhoods east of 82nd Avenue formally became part of Portland. The population has grown too, as in so much of the city, with more people moving to the quadrant every day.
Southeast Neighborhoods
Explore some of this sizable quadrant's most popular neighborhoods.
Neighborhoods
You could spend your entire visit in Southeast Portland and never run out of things to do. You might start your exploration on Southeast Hawthorne Boulevard, a popular strip with a bohemian, artsy vibe. Enjoy great restaurants (including Apizza Scholls, one of the most celebrated pizzerias in the country), cool coffee shops (like Coava Coffee Roasters and Upper Left Roasters) and colorful shopping (try House of Vintage for a top-tier thrifting experience). You'll find a similar vibe on Southeast Belmont Street, just a few blocks to the north. For a classic dive bar experience, hit The Vern for a pint and a game of pinball. Hunt for funky threads at Naked City Clothing or peruse books, crystals and tapestries at Moonshadow.
More Southeast Portland Shopping
This quadrant's many varied neighborhoods offer an abundance of stellar shops.
Just south of Hawthorne is Division/Clinton, a stylish neighborhood and one of the city's top dining scenes. Magna Kusina offers modern takes on classic Filipino fare, or pay a visit to Kati Portland for vegetarian Thai food that doesn't skimp on flavor. Oma's Hideaway serves playful, boundary-breaking fare (Malaysian, Singaporean and Indonesian influences are all in play) in a funky, stylish setting. Division/Clinton is also home to excellent spots for a post-meal treat: Try Lauretta Jean's for pie, Fifty Licks for ice cream or internationally renowned Stumptown Coffee Roasters for a cup of joe.
Portland is one of the great beer cities, and (along with a burgeoning restaurant scene) the Central Eastside boasts a high concentration of popular breweries, like Lucky Labrador Brew Pub, Cascade Brewing Barrel House and the gluten-free Ground Breaker Brewing. You'll also find outposts of nationally known breweries that made their names elsewhere in Oregon, including Newport's Rogue Ales and North Portland's Ecliptic Brewing. In recent years, Portland has developed a robust craft spirits scene, and many of the city's top distilleries — including Westward Whiskey, New Deal Distillery and Wild Roots Spirits — call the Central Eastside home.
If adventures in the bustling setting of inner Southeast Portland leave you craving a change of scenery, make a stop in the Jade District. This lively neighborhood is home to many people of color and immigrants — it's one of Portland's most diverse cultural hubs. It's also another can't-miss dining destination, thanks to restaurants like Ha VL, a beloved Vietnamese soup spot, and HK Cafe, a dim sum haven. Indulge in a custard bun at King's Bakery or a Japanese-style dessert crepe at Mojo Crepes. Be sure to stop by nearby Fubonn, the largest Asian shopping center in Oregon, which comprises a wide array of eateries and other businesses.
Things to Do in Southeast Portland
Family Fun
Much of Southeast Portland's reputation revolves around activities that appeal to adults — fine food, carefully crafted coffee, cocktail bars and dives. But there's also plenty of fun to be found for kids (and the young at heart). Oaks Amusement Park in Sellwood has offered family entertainment since 1905 — enjoy midway games, a skating rink, a miniature golf course, a historic carousel and over 20 rides. They also serve comfort food classics, or bring your own meal to savor on the riverfront picnic grounds.
Just across the Willamette River from downtown is the Oregon Museum of Science and Industry (OMSI). One of the country's premier science centers, OMSI offers extensive exhibit halls, a planetarium, a tourable submarine, multiple auditoriums and more. For more family-friendly fun, the Oregon Rail Heritage Center is just a few blocks away. This free, volunteer-run attraction lets visitors get up close with vintage steam engines, watch real work being done in the machine shop and even take a ride on the Oregon Pacific Railroad.
Food Cart Pods in Southeast Portland
No Portland trip is complete without a stop at a food cart pod — this quadrant has some great ones.
Flora, Fauna & Fresh Air
Southeast Portland contains many of Portland's 200+ parks. Oaks Bottom Wildlife Refuge, a 140-acre (56.7-ha) wetland just a few miles from the central city, is a pleasant place for a walk and an excellent birdwatching destination (you may even encounter an otter). Nearby Crystal Springs Rhododendron Garden is another top-notch birdwatching site, and home to more than 2,500 rhododendrons, azaleas and other plants. You'll find more flowers at Leach Botanical Garden, a tranquil 16-acre (6.5-ha) garden featuring an impressive variety of flora. Near the northern edge of the quadrant is Laurelhurst Park, the first city park ever named to the National Register of Historic Places. Its 32.3 acres (13.1 ha) offer something for everyone, including a playground, picnic areas, sports courts and an off-leash dog area.
Head east for fresh air and striking views. Mt. Tabor Park is a unique urban attraction: an expansive public park perched atop a 636-foot-tall (193.9-m-tall) extinct volcano, well within city limits. The park is home to four open reservoirs and a mixture of footpaths and paved roads — hike your way to the summit and enjoy breathtaking views of Southeast Portland, the city center and the West Hills beyond. Further east still is sprawling Powell Butte Nature Park. Its miles of winding trails mean you can go mountain biking or take a scenic hike without even leaving the city.
More to Explore
Art Appreciation
Revolution Hall is a remarkable place to take in a concert, a lecture or a stand-up show — this unique venue started life as a historic high school auditorium, and its quirky character can still be felt in the vintage architecture and décor.
Cinephiles will feel right at home in Southeast Portland, where there seems to be a historic theater around every corner. In Hawthorne, there's McMenamins Bagdad Theater & Pub and the Cinemagic theater. In Montavilla, check out the Academy Theater for second-run flicks in three auditoriums. The Aladdin Theater in Brooklyn opened as a vaudeville house in 1927, and while today it mostly hosts live music and comedy shows, you can still catch the occasional film. On Southeast Belmont Street you'll find the Avalon Theatre, the oldest operating movie theater in Portland (today it's also known for the arcade it houses, Electric Castle's Wunderland, which offers video games, redemption games and pinball). Just a mile to the southwest you'll find the city's second-oldest theater: the Clinton Street Theater.
Fun and Games, Sports and Arcades
Whether you prefer paddles, flippers, buttons or balls, have a blast in Southeast Portland.
Round out your arts exploration with a visit to Music Millennium, the longest-running record store in the Pacific Northwest. Since 1969, they've provided Portland with music in every medium, books, movies, shirts and live shows. (Owner Terry Currier coined the mantra "Keep Portland Weird" in 2003.) Can't make it to East Burnside Street? If you're in arts-friendly Southeast Portland, there's surely another record store nearby. Try Crossroads Music in Foster-Powell, Jackpot Records in Hawthorne or Tomorrow Records in the Central Eastside.
Portland's Quadrants
Explore the six "quadrants" (yes — there are six of them!) that make up the City of Roses.