Northeast Portland
For shows, sports and big events, Northeast Portland is hard to beat. It's also home to many popular neighborhoods, where you'll find excellent eateries and culture galore.
Portland's largest quadrant boasts striking architecture, historic theaters, a variety of public golf courses and other attractions. It comprises numerous colorful neighborhoods, including the Alberta Arts District, Hollywood, Lloyd and many more. If you're coming to Portland for a big event — like a Trail Blazers game at the Moda Center, a concert at the Veterans Memorial Coliseum or a conference at the Oregon Convention Center — odds are good that Northeast Portland is your destination. This quadrant is also home to Portland International Airport, top-notch restaurants and bars, and noteworthy sights like the Grotto.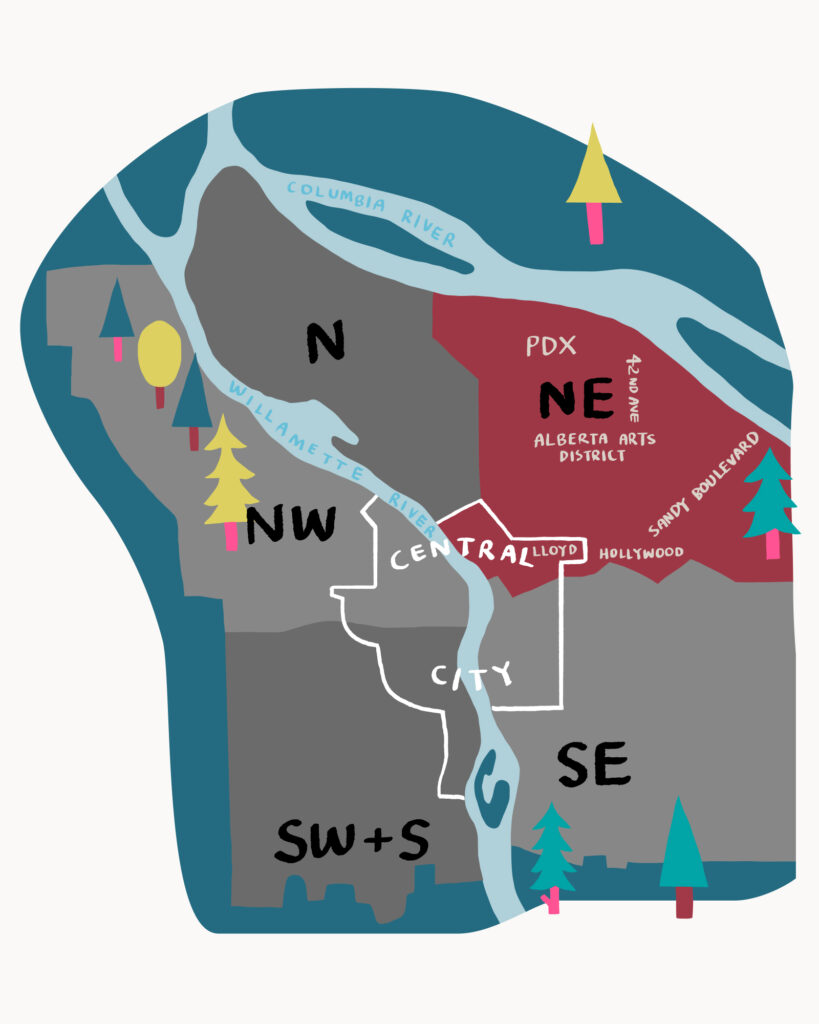 About Northeast Portland
Past and Present
Which is the most diverse part of Portland? With its wide range of neighborhoods, its variety of environments and its many attractions, Northeast Portland makes a strong claim. Unfortunately, the story of this quadrant has a troubling racist side too, especially regarding the historic neighborhood of Albina. Many Black homes and businesses were located in Albina, an eastside area that was flourishing in the early 1900s — in the mid-20th century, Portland forced them out to clear space for freeways and large construction projects. Much of the displacement occurred in North Portland, but inner Northeast Portland was affected too.
The neighborhoods of outer Northeast Portland typify the history of urban-adjacent areas across America — first wilderness or Native land, next farmland or small town, then development and annexation. The Cully neighborhood was the site of a Chinook village called Neerchokikoo; by the mid-19th century, the Native population had been decimated by disease or forced onto reservations, and the area was claimed by white settlers. Over the following decades, homes and businesses sprung up, including canneries and dairies; Cully was annexed by Portland in 1985. Farther out, the Parkrose neighborhood was once a blend of meadows, woods and wetlands. In the late 19th century, Italian immigrants established farms (including Rossi Farms, which still stands today). The 20th century was marked by residential development, spurred on by improved transportation; Parkrose became part of Portland in the 1980s.
Northeast Neighborhoods
This quadrant's bustling neighborhoods and business districts provide food and fun.
Modern-day Northeast Portland encompasses a long list of colorful neighborhoods, each a little different from the next — some historic, some hip, some working-class, some gentrifying. Cully provides a particularly diverse example: It includes "the most racially/ethnically diverse Census tract in Oregon by some measures." Parts of Northeast Portland remain home to the largest populations of Black Portlanders in the state, especially in and around the Albina area. (The Black population has been declining in recent years — starting in 2015, efforts have been made to reverse these trends, though their effectiveness so far has been limited.) It has a sizable Asian American community as well.
The Alberta Arts District
The Alberta Arts District lives up to its name: This popular neighborhood is a vibrant artist's haven, with murals adorning the streets and galleries in a variety of styles and sizes — Alberta Street Gallery, Guardino Gallery and Antler, to name a few. Since 2019, the Alberta Street Black Heritage Markers have lined Northeast Alberta Street; these permanent public art installations honor and celebrate Black history in the neighborhood. Consider a visit to the Alberta Arts District for Last Thursday, a lively recurring street fair that's held on — you guessed it — the last Thursday of the month. Experience live music, art installations, acrobatics, performance art, makers and much more.
Alberta is also a top-notch destination for eating and drinking. Pay a visit to Urdaneta for acclaimed Spanish tapas in an elegant setting, or try DarSalam for bright, flavorful Middle Eastern fare. Salt & Straw has become a nationwide success, but the magic started right here. For an after-dinner (or after-dessert) treat, enjoy classic cocktails at Expatriate.
Where to Stay in Northeast Portland
Northeast Portland offers accommodations for every budget.

This central part of the quadrant, home to the Oregon Convention Center and attractions, is just minutes from downtown.

Stay near PDX (located near the northern edge of Northeast Portland) and you'll be close to lots of other things, too.

Find accommodations in Northeast Portland, or stay elsewhere in the city and come to the quadrant to explore.
Other Neighborhoods
If you're in town for a big event, you might be headed for Lloyd — it's home to the Rose Quarter, a hub for sports and entertainment in Portland. Its largest venue is the Moda Center, the home court for the Portland Trail Blazers and the site of many of Portland's largest shows. The Rose Quarter is also where you'll find the Veterans Memorial Coliseum, a 12,000-seat arena where the Portland Winterhawks play hockey and where major concerts are held (Elvis, Aretha Franklin and The Beatles have played there, to name a few heavy hitters). On the other side of Interstate 5 is the Oregon Convention Center — a site for many conferences, meetings and expositions — and Lloyd Center, a large shopping mall offering cool indie shops and an indoor ice-skating rink.
Dining Near NE Killingsworth and 30th
Find an abundance of terrific eateries at this single intersection.
Kerns is located southeast of the Lloyd neighborhood — near the heart of the city, just east of the Willamette River. A high-density, artsy area, Kerns is a great place for a stroll, admiring the urban architecture and exploring local businesses. If you're thirsty, sip satisfying cocktails at whiskey-centric Paydirt, or savor margaritas, piña coladas and "zero-proof" refreshments at Tropicale; if you need a drinking snack, try their Latin American and Caribbean-inspired small plates. For more tempting eats, head to Northeast 28th Avenue, which boasts an impressive density of stellar restaurants, including Güero, Navarre and The Sudra. (Interested in a little more time in an atmosphere similar to Kerns'? Consider a stop in the Central Eastside — this industrial, up-and-coming area falls mostly within Southeast Portland, but its northern tip is well worth a visit too.)
Shopping in Northeast Portland
Hunt for apparel, accessories, housewares, antiques, records, books and much more.
Just a few blocks to the northeast you'll find Hollywood. Not that Hollywood — the pocket neighborhood in Northeast Portland, perfectly sized for exploration on foot. You'll know you're in the right place when you see the striking, historic Hollywood Theatre. For entertainment, shoot a game of pool at Sam's Billiards, hunt for treasure (and great deals) at Antique Alley or check out The Moon and Sixpence, a popular British-style pub with a lot of character (and a sizable patio out back). For food, Shandong and Chin's Kitchen offer satisfying Chinese fare. Gado Gado serves delicious Indonesian cuisine with touches of Dutch and Chinese influence.
Outer Northeast Portland
The neighborhoods east of Interstate 205 — and handy to the airport and surrounding hotels — have plenty to offer.
Things to Do in Northeast Portland
Historic Theaters
The Hollywood Theatre isn't just a historical landmark and a beautiful building — it's also a great place to catch a movie. They screen both first-run films and older flicks, which run the gamut from classics to cult hits.
It doesn't stop in Hollywood — there are a multitude of charming historic theaters to explore in Northeast Portland. McMenamins Kennedy School started life as a public elementary school in 1915; it closed in 1975, and decades later, was acquired by McMenamins, who reimagined it as a unique hybrid property offering restaurants, bars, a brewery, a pool, a hotel and a movie theater. Catch second-run films while enjoying food and drinks in the cozy, vintage space. The Alberta Rose Theatre had its original run from 1927 to 1978 (in the early '70s it was the Alameda Cinema, a Black-owned theater specializing in classic "Blaxploitation" flicks). It reopened in 2010, and though it's primarily a concert venue today, you can still catch screenings of art house and independent movies. The Laurelhurst Theater is another Portland classic — admire the cool art deco construction on your way in, then enjoy an affordable film while sipping beer or wine and snacking on pizza and popcorn.
Northeast Portland Food Carts
Food cart pods let everyone in your group choose their own culinary adventure — here are five good ones.
Get Outdoors
Northeast Portland offers a multitude of public parks. In inner Northeast, try Irving Park for 16 acres (6.5 ha) of spacious fields, sports courts, winding paths, a rainwater-capturing nature patch and an off-leash dog area. Kʰunamokwst Park (the Chinook Wawa word for "together") is a fun destination for kids — they'll love the natural play areas, splash pad and beginner-friendly skate spot. Further out in Northeast, enjoy mountain views at modern Luuwit View Park, or climb Rocky Butte to Joseph Wood Hill Park and take in stunning views on all sides.
One of the most distinctive sites in Northeast Portland is the Grotto, a woodland sanctuary on the northern slope of Rocky Butte that encompasses botanical gardens, thousands of feet of trails, a meditation hall and more on 62 acres (25.1 ha). A ministry of the Order of Friar Servants of Mary, the Grotto is affiliated with the Catholic Church, but welcomes "people from around the world, people of all faiths and no faith." Visitors can stroll the grounds, observe the many statues and shrines, or sit in quiet contemplation amid the natural beauty. You can explore the lower garden level free of charge or pay a small fee to access the upper level.
More to Explore
Play the Night Away
When you think of "gamers," you might picture teenaged whiz kids, but Retro Game Bar caters to a different type — those old enough to remember when gaming involved plastic cartridges and a whole lot of wires. Play classic consoles from the '70s, '80s and '90s while enjoying Asian-inspired fare, craft cocktails, and local beer and wine. Still too modern for your tastes? WedgeHead takes it all the way back to the era of plungers, flippers and bumpers. Play on 20-plus pinball machines from a rotating collection of over 150. Keep your energy up with hearty pub fare — think burgers, sandwiches and burritos.
More Northeast Portland Restaurants
Explore more of Northeast Portland's abundant awesome eateries.
Portland International Airport (PDX)
Near the northeastern edge of the city, Portland International Airport (PDX) offers direct flights to most major American airports and non-stop international flights to locations near and far. An airport befitting a city like Portland, PDX has unique, quirky flourishes, including a bicycle repair station, a mini movie theater and a distillery's tasting room. Forget boring chains and bland food — PDX is home to outposts of beloved Portland spots like Blue Star, Cha Cha Cha and Screen Door. It's located within the city limits, just 9 miles (14.5 km) from downtown, and is conveniently connected to the city center via the MAX Light Rail Red Line.
Other Attractions
Find your next outing or adventure in Portland's largest quadrant.

Northeast Portland dispensary Green Muse pairs recreational cannabis with local music and community-building.

Whether you're curious about crystals, dreaming of divination decks or just seeking sweet-smelling soap, Portland's Mystic District has the store for you.
Portland's Quadrants
Explore the six "quadrants" (yes — there are six of them!) that make up the City of Roses.