Lloyd Dining
Portland's meeting and sporting district serves up satisfying meals all day.
Lloyd offers a full menu of dining options, whether you're spending the day at the Oregon Convention Center or an exciting night at The Moda Center.
Breakfast
Though it serves a solid three squares, breakfast generates the most buzz at Milo's City Cafe, located near the convention center in Portland's picturesque Irvington neighborhood. Their hearty take on the most important meal of the day includes smoked salmon hash and Dungeness crab cake eggs Benedict.
A few blocks away, Cadillac Café serves up a side of nostalgia with their fare, with classic diner food served in an Americana-themed setting. Their hazelnut French custard toast and Denver omelet are timeless, too, especially since breakfast is served all day.
Skip the long lines at their other two Portland locations and head to Pine State Biscuits's small Northeast location to snag their popular biscuit-and-gravy sandwiches from an indoor walk-up window.
Lunch
A local chain, Burgerville, turns fast food on its ear with locally sourced ingredients stacking a seasonal menu with options like Walla Walla onion rings, blackberry shakes and natural beef burgers smothered with Tillamook cheddar.
Vegan eatery Blossoming Lotus serves organic world-fusion cuisine with raw, gluten- and soy-free options. Open all day, and boasting a full bar stocked with local, organic beer, wine and spirits, sustainably operated Blossoming Lotus' healthy dishes — like Thai tacos loaded with peanut soy curls, cashew sour cream and cilantro — have no shortage of flavor.
Dinner
You'll hear a lot of cheering at Spirit of 77, and it's not just for the game projected on the big screen. An unabashed sports bar, this playful space is fun even when the Blazers are on the road, with a snacky mix of food that goes great with their more than 30 beers, including pork confit tortas, tuna ceviche and reuben fritters.
McMenamins on Broadway has a more mainstream menu that excites nonetheless, with burgers, sandwiches, pizza, salads and rice bowls. Whatever you order, start with a bowl of their Cajun tots, the perfect pair for any of the local chain's own spirits, craft brews or wines.
At Pastini Pastaria, an outlet of a family-friendly local chain, starting with a plate of bruschetta classico is advised. It's the best opener for any of their flavorful meat or vegetarian entrées, including their spaghetti carbonara and capellini primavera.

Portland, home to more breweries than any other city on earth, has pioneered the craft beer movement since the early 1980s.

When warm weather arrives, nothing beats a cold drink on the patio! Pair breathtaking views with the city's best drinks at these Portland rooftop bars.

Whether you're cheering on our trusty Timbers or Trail Blazers or rooting for your own hometown heroes, here's where to watch sports in Portland.
Nearby
Easily accessible via light rail, streetcar or taxi, the Convention Center area is just a short jaunt from the restaurants of the Central Eastside, Pearl District and downtown. Less than 10 minutes north by bus, Argentine-inspired Ox Restaurant fires, smokes and grills all sorts of entrees, including beef ribeye and coal-roasted artichoke.
And just a bit further north, the wood-fired, American craft foods at Ned Ludd are stuffed with ingredients and flavor, like their take on Bird in the Nest: hollowed-out polenta filled with duck ragu.
How to Get There and Around

The TriMet bus system, which covers the city and its suburbs, offers low fares, friendly drivers and full wheelchair accessibility.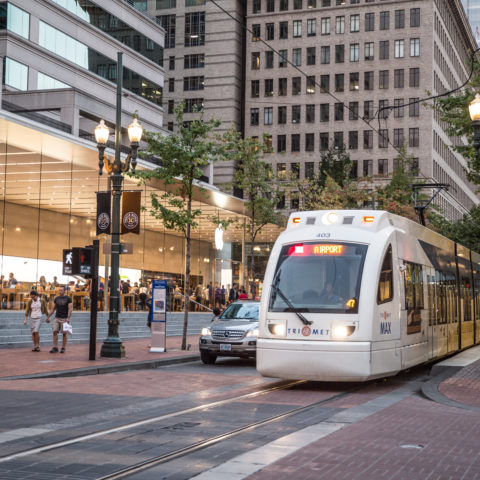 Portland's efficient light rail system connects the metro area and downtown core. Learn how to ride and where to go on MAX.

Introduced in 2016, Portland's bike-share program brings 1,000 smart bicycles to the central city.