The Lay of the Land
Where's the convention center? How do delegates get from the airport to their hotels? Get the answers you need to determine if Portland will work for your meeting.
The map below provides a quick look at how Portland is laid out. Yes, there's a river between the convention center and downtown. No, that's not a problem.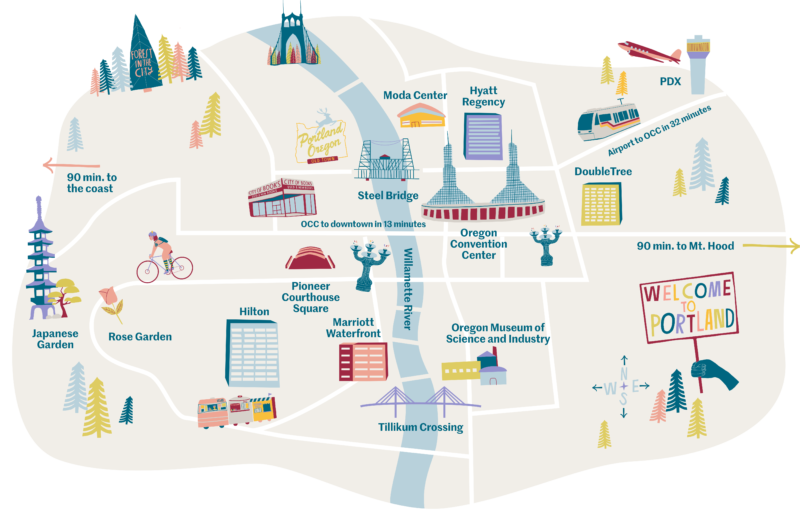 MAX Makes it Easy
Portland's MAX Light Rail system connects Portland International Airport (PDX), the Oregon Convention Center (OCC) and the downtown hotel core — making it easy for your delegates to get where they need to go.
What About That River?
Yes, the OCC is directly across the Willamette River from downtown Portland. Locals don't see the river as a barrier; it's just a slice of nature in the middle of the city — and it takes mere minutes to cross.
Where Will They Stay?
Portland's 600-room convention center headquarter hotel is slated to open in February 2020. If you need more rooms (or if you meet here before 2020), Travel Portland's expert housing services team will work with local hotels to ensure that your delegates get the best lodging available.
Get More Answers
To learn more, visit our Frequently Asked Questions (FAQ) and Maps and Transit pages. And contact our team for the best service in the business.
Here are answers to the most common questions we hear from planners.
Travel Portland's housing services team saves you money and time.

Whether by light rail, streetcar, bike or ride-share — it's easy for delegates to get around in Portland.