Listen Up Festival Brings Nationally Acclaimed Podcasts to Portland Stages
Meet the creator behind Portland's newest pop-up festival.
Emilly Prado
Emilly Prado is a writer, award-winning journalist and consultant living in Portland. Read More
Know Before You Go
Editor's Note: Travel Portland is a sponsor of the Listen Up Festival. The festival will be on hiatus for 2020. Look for new shows in 2021.
Once a fairly esoteric activity, slipping on a set of headphones to savor a good podcast is now a familiar experience for nearly two-thirds of Americans. Shauna Noah, a longtime Portland event producer and podcast listener, decided to shake up this typically solitary experience by creating Listen Up Festival. The event debuted in February 2019, bringing thousands of fellow "podcast nerds" to experience their favorite shows live over the course of a weekend.
"I wanted to do something on my own," says Noah, who has helped produce local events like TechFestNW and My People's Market. "One of the things that's really important to me is this city, Portland. I was listening to live [podcast] shows and attending shows where they do the taping, and realized I [could] have it in Portland."
Listen up Podcast Festival
The Podcasts and their Venues
Noah created the Listen Up Festival alongside a team of other accomplished event producers as a way to introduce podcasters and listeners not only to each other but also to the city of Portland. During its inaugural festival in 2019, two dozen podcasters from around the world hosted live sessions around the city, at venues specially selected to match the topic and mood of their shows. "We wanted to have an SXSW feel where you get to run all over the city," Noah says.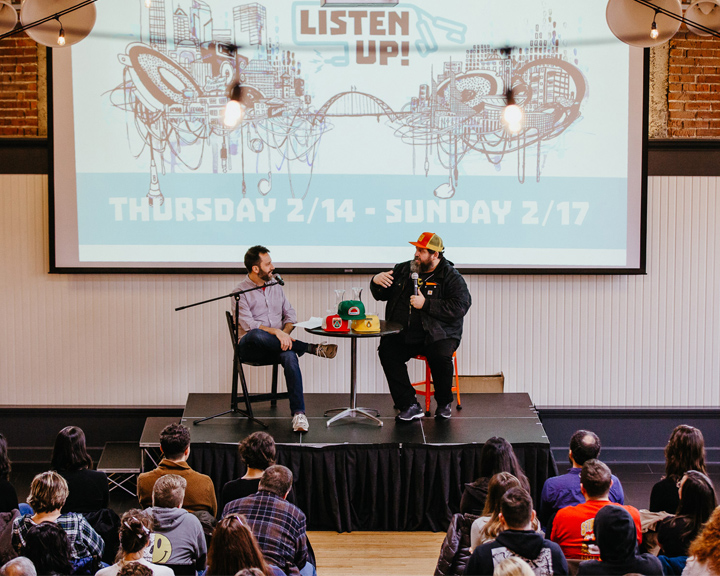 The "queer brown podcast about sex, identity, culture and reading" Food for Thot recorded from the chic Jupiter NEXT boutique hotel. Meanwhile, the duo behind White Wine True Crime chatted about their love for the Investigation Discovery channel amongst the barrels at Coopers Hall, Oregon's first winery "dedicated to keg production." And Potterless, a podcast about a man reading Harry Potter (and 50 Shades of Gray) for the first time, settled into the Sentinel Hotel.
"The goal is to pair these nationally or internationally known podcasts with an iconic Portland location, so it encourages people to be in that space and revisit it if you are a local, or learn about it if you are from out of town," says Noah. "[The podcasters will also] tell the stories of our food, booze, culture [and] history, so it shares with the world what Portland is doing."
The Mission of Listen Up
While the range of topics may have been expansive, each podcast was intentionally and thoughtfully invited with Portland in mind, Noah explains. "I wanted to find podcasts that spoke to something culturally going on in Portland," she says. "For example, we have Alright Mary, which is a RuPaul's Drag Race podcast, [and Portland has] such an active drag scene. We have Darcelle (who is the oldest living drag queen in the world!). I wanted to be able to put that together and tell that story."
"We have an awesome brewery scene, so [we invited] She's Crafty, which is [hosted by] a female comedian that is a huge beer nerd coming into the city to talk about beer. Being able to pair those together was really the [purpose] of picking a lot of the podcasts… who would be able to tell our story."
How to Attend Listen Up
To ease the weight of deciding which live podcast show to attend, Noah developed four ways to pay: Attendees could purchase tickets à la carte (per show) or in six- or 10-show packs, or select a VIP wristband for access to every show. (VIP wristbands also included a giftbag, a meet-and-greet with select podcasters and access to invite-only dinners.)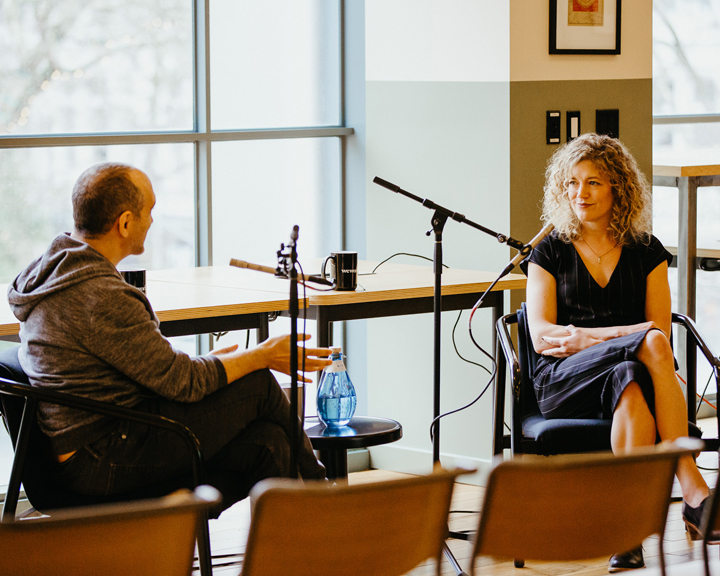 For those who have never attended a live podcast taping, Noah says it's "very much like standup comedy, or even a Ted Talk. Sit down, engage as an audience member and soak in the hour." For those who have never even listened to a podcast before, she recommends going to any live shows happening at Revolution Hall. "Those are the larger-scale podcasts, the award-winners — these are well-known people that tour quite a lot."
The festival's inaugural lineup included lauded shows like James Beard Award-nominated podcast The Sporkful, which was hosted at the Evergreen and featured an interview with local designer Aaron Draplin. (Both the Sporkful and Food For Thot were nominated for the inaugural 2019 iHeartRadio Podcast Awards in the categories of Best Multicultural Podcast and Best Food Podcast, respectively.)
While the first Listen Up Festival was a success, Noah doesn't want it to end there. "I hope this [is] a long-running, large event," she says. "We hope to just keep growing it. There truly are podcasts about everything in the world right now; our goal is to keep telling the stories of what people are doing in Portland and sharing our city."