Portland's Top 10 Winter Drinks
Warm your belly with the city's best seasonal concoctions.

Molly Woodstock
Molly Woodstock has been writing and editing content for Travel Portland since 2014. Read More
Nothing tastes better on a dark and stormy evening than decadent hot chocolate or cozy rum cocktails. Raise a toast to winter with these top-notch seasonal drinks:
Autumn in Kursk
Kachka
Celebrated Russian restaurant Kachka is best known for its infused vodka flights paired with traditional zakuski (drinking snacks), but the true showstopper is Autumn in Kursk, an apple brandy concoction made with earl grey vodka, punt e mes, velvet falernum and apple cider vinegar. This potent winter warmer is sure to heat your insides on even the coldest Portland night.
Cafe Calva
Teardrop Lounge
For a toddy with a caffeine kick, the cocktail wizards at Teardrop Lounge serve up a toasty beverage with Calvados apple brandy and chicory-infused coffee from local roasters, Coava, topped with fragrant garam masala whipped cream. 'Tis the season, indeed!
Drinking Chocolate Pour-Over
Cacao
Discerning chocolate shop Cacao offers its own spin on the classic Italian affogato: Chocolatiers pour churned drinking chocolate over Salt & Straw's savory olive oil ice cream, then spoon on glazed cocoa nib clusters nicknamed "Craque" to create a rich, crackling cup of heaven.

Organic Abominable Winter Ale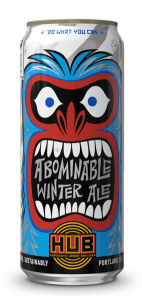 Hopworks Urban Brewery
Portland's Hopworks is beloved for its light golden lager and summery kolsch, but its winter beers are well worth warming to. The annual Abominable Winter Ale promises a spicy, citrusy medley of organic Northwest hops. (And in true Portland fashion, we recommend upcycling the festive-looking 16-ounce can into a Christmas tree ornament.)
The Empire
Tabor Tavern
This Tabor Tavern cocktail bursts with comforting winter flavors — think cider, coffee, cinnamon and rum — for the ultimate seasonal beverage. A lengthy ingredient list includes Myers's Dark rum, Amaretto Di Saronno, St. Elizabeth Allspice Dram, house-made apple bourbon bitters, coffee, whipped cream and a cinnamon stick.
Volcano Bowl
Hale Pele
Bid aloha to the winter blues at atmospheric tiki bar Hale Pele, which offers an array of tropical rum delights. Gather your friends around the Volcano Bowl, a group drink made with grapefruit, lime, allspice and aged rums, served in a giant goblet topped with towering flames.
Hot Toddies
Produce Row
A deep roster of hot toddies awaits at laidback Central Eastside gastropub Produce Row. Banish winter chills with the classic Old Row Toddy, featuring honey-ginger syrup, or the spicy Sailors Dream of Shore with Sailor Jerry and Ancho Reyes.
Thai Coconut Cup
Alma Chocolate
The artisan makers at Alma Chocolate don't limit themselves to solid bars. The dynamic drink menu includes decadent creations like the exotic Thai Coconut Cup, made with lime zest, candied ginger, coconut milk, chili and milk chocolate ganache.
Irish Coffee
Raven and Rose
The best pick-me-up on a rainy afternoon? We'd argue for a classic Irish coffee at downtown's Raven & Rose. Head upstairs to the Rookery Bar, the carriage house's hidden drinking hole, for a creamy, caffeinated cocktail made with good Irish whiskey and local Spella coffee.
Spanish Coffee
Huber's Café
Established in 1879, Huber's Café has been pleasing patrons with its signature drink for more than a century. Kahlua, Bacardi 151, Bols triple sec and coffee are mixed, flamed tableside with great flair and topped with fresh whipped cream and nutmeg.
Related
More winter activities in Portland
The Holiday Ale Festival, set beneath the region's largest decorated holiday tree, returns every year with more than 50 big, bold beers designed to keep revelers warm on cold winter nights.
Brighten your February with glowing sculptures and thousands of twinkling lights at the annual Winter Lights Festival.
During Oregon's premier tasting and cellar-stocking event, more than 150 wineries open their doors to the public, offering samples of favori